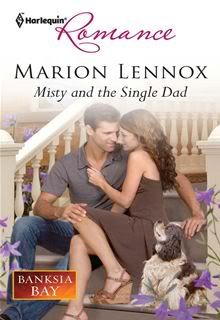 Publisher: Harlequin (June 7, 2011)
Kindle:  192 pages / 347  KB
Rating: 4 of 5 stars
Teacher Misty Lawrence has lived her whole life in Banksia Bay, cherishing a secret list of faraway dreams. Just as she's finally about to take flight, Nicholas Holt—tall, dark and deliciously bronzed—turns up in her classroom with his little son Bailey and an injured stray spaniel in tow.
Review
We start off with the elementary school teacher, Misty Lawrence, who has a list of dreams she plans on going through once her responsibilities in Banksia Bay ends. However, Misty can't help but be a good, dependable person despite her wishes to get away and live life.
Enter Nicholas Holt. He moved to Banksia Bay with his son, Bailey, to get away from excessive excitement, adventures and dangers. He wants to put down roots and make a safe haven for Bailey. Maggie is attracted to Nicholas and it seems inevitable they end up in a relationship, especially with the not-so-subtle meddling of the town veterinarian.
For a short Harlequin novel, Lennox certainly delivers. Misty is captured perfectly. While characterized as a dependable person, Lennox is able to accurately convey Misty's feelings of unease and dissatisfaction. She grapples with trying to settle with her life without leaving any regrets of forgoing her dreams to pursue a happy relationship with Nicholas.
Nicholas likes Misty. But in his zealous efforts to secure a safe home for Bailey, he misses Misty's unease in her attempts to stifle her dreams. The way Lennox plays out their relationship is fast paced but not overwhelmingly so. It is easy to follow. This is a good read for anyone looking for a short, sweet romance.
Author:
Kim
Everything can be made better with a good book or some relaxing knits. 😀 Find me on IG @kimberlyh12 or on Twitter @enervated.
Related Posts