All Our Yesterdays

by Cristin Terrill
Series: All Our Yesterdays #1
Published by Disney Hyperion on September 3rd 2013
Genres: Sci-Fi, Young Adult
Pages: 360
Buy: Amazon, B&N, Book Depository, Chapters !ndigo
Goodreads

What would you change?

Imprisoned in the heart of a secret military base, Em has nothing except the voice of the boy in the cell next door and the list of instructions she finds taped inside the drain.

Only Em can complete the final instruction. She's tried everything to prevent the creation of a time machine that will tear the world apart. She holds the proof: a list she has never seen before, written in her own hand. Each failed attempt in the past has led her to the same terrible present—imprisoned and tortured by a sadistic man called the doctor while war rages outside.
Marina has loved her best friend, James, since they were children. A gorgeous, introverted science prodigy from one of America's most famous families, James finally seems to be seeing Marina in a new way, too. But on one disastrous night, James's life crumbles, and with it, Marina's hopes for their future. Marina will protect James, no matter what. Even if it means opening her eyes to a truth so terrible that she may not survive it... at least, not as the girl she once was. Em and Marina are in a race against time that only one of them can win.

All Our Yesterdays is a wrenching, brilliantly plotted story of fierce love, unthinkable sacrifice, and the infinite implications of our every choice.
Review:
Okay. I really liked this book. Yes, so much that since I've finished reading it, I have forced everyone near me to read it.
The book starts off with a bang, or rather a drain. And a list. "You have to kill him." – that's what it's come to. In this current time line Em and Finn are prisoners who managed to escape to the time machine and travel back 4 years ago to try and stop the world from exploding totally chaos and horror. And the last resort is to kill "him". In that beginning setup alone (aka. the first 3 chapters), it was a nice, fast paced, action packed, romantic adventure. (I reaaaally liked the beginning, it sucked me in.)
The story is from two alternating POV, Em and Marina, who we meet in another timeline. In that timeline, Marina lives next door to her genius of a best friend friend James (who's she's in love with). Of course these two time lines will cross, and the thing with time travelling is you always have to worry about paradoxes! What I really enjoyed about the way Terrill writes this is she keeps it intricate enough that you gotta stay sharp but without it being overbearingly complex that you can't work your way out of the darn yarn ball. It was a good pace that  allowed me to figure things out without having it all spelled out to me too quickly.  She does a good job of explaining and trying to keep plot holes to a minimal. Basically, just keep in mind what the Tenth Doctor tell us – "People assume that time is a strict progression of cause to effect, but actually from a non-linear, non-subjective viewpoint – it's more like a big ball of wibbly wobbly… timey wimey… stuff" and you'll be good to go with the time travel.
It's hard to talk about the plot without ruining anything, so I'll try to keep it simple. The thing with this darn book is it just pulls at your heartstrings. It's more than just a time-travel revenge story (which on it's own is pretty cool), but it's a story about friendships that are pushed to the limits. How far will you go before you stop trying to help and you simply let go because there's no other way? I'm a sucker for happy endings, I need happy endings, but sometimes you get to those endings where it just can't be. This one was bittersweet and left me a little teary eyed and a little awestruck by all the possibilities that could have been.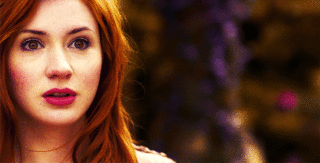 There are still a few gaps and holes that don't get full explained or could do with a bit more detail but overall, it's an exciting thriller laced with romance and intrigue. All Our Yesterdays is a wonderful, time traveling sci-fi debut for Cristin Terrill.
Oh and I just need to talk about the romance really quickly. I loved it. You would thinking that it would be a love triangle and it would frustrate me to no end, but damn does Terrill know she's doing! It's heartbreaking and amazing all at the same time. Yay for appropriate reactions to situations! And also, I love Finn. He's the best.
"My body still feels hollow and unsubstantial, as though I accidentally left some it four years in the future. "I don't know. Will you be able to catch me if I fall?"
"Doubt it," he says, "but I'll let you land on top of me. I'll make a nice squooshy landing."
I smile. "My hero." 
—————-
Author:
Cyn
noun. a bum OT, procrastinator. reader. eater. sleeper. music listen-er. movie go-er. Loves food too much.
Related Posts