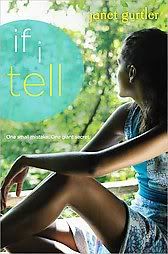 Publisher: Sourcebooks Fire (October 1, 2011)
Kindle:  256 pages / 393  KB
Source: Netgalley
Rating: 4 of 5 stars
Jasmine Evans knows one thing for sure… people make mistakes. After all, she is one. Jaz is the result of a onenight stand between a black football player and a blonde princess. Having a young mother who didn't raise her, a father who wants nothing to do with her and living in a small-minded town where she's never fit in hasn't been easy. But she's been surviving. Until she sees her mom's new boyfriend making out with her own best friend. When do you forgive people for being human or give up on them forever?
Review:
This book was one I wasn't sure if I liked or disliked by the end. Well-written, it was easy for me to get caught up in the story. I liked Jackson a lot. He and Ashley made for a nice contrast Jasmine, or Jaz as she's known to those close to her.
Jaz, on the other hand, got on my nerves. But part of that is because Gurtler portrayed her character so convincingly. Jaz wasn't the perfect heroine; she was far from it. Jaz was a flawed and very real character. Seeing her best friend make out with her mother's boyfriend is just the tipping point forcing Jaz to confront many of the issues she holds close to her heart.
The counter balance to all of Jaz's drama would be her budding friendship/romance with Jackson. Easy to get along with, Jackson helps Jaz find respite from the increasing pressures the secret has added to her life.
Dealing not only in the idea of secrets and the effects they have, another issue dealt with is race. Struggling to fit in as one of the few (if not the only) biracial students, Jaz has low self-esteem and a belief that her mixed heritage is not something she can truly be proud of. Gurtler didn't tackle the issue lightly and she raised some good points, where sometimes the truth isn't always black and white. But at the same time, it felt like the race issue was something thrown at the reader too much.
"If I Tell" is a short, quick read, but Gurtler packs a lot into the book. I would recommend this for anyone looking for a contemporary YA that isn't all happy and tackles some social issues that still exist.
————
Find Janet Gurtler:
Purchase the book:
Amazon | Barnes & Noble | The Book Depository
Author:
Kim
Everything can be made better with a good book or some relaxing knits. 😀 Find me on IG @kimberlyh12 or on Twitter @enervated.
Related Posts