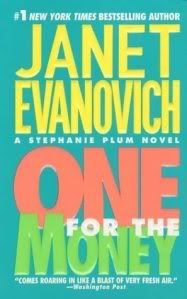 Publisher: St. Martin's Griffin (February 24, 1999)
Kindle: 352 pages / 379 KB
Series: Stephanie Plum #1
Rating: 3 of 5 stars
After her Miata is repossessed, Stephanie Plum turns to bounty hunting for quick cash, and her first quarry, an ex-cop accused of murder, turns out to be her first lover, with whom she still shares a powerful chemistry.
Review:
For anyone who reads mystery/ thrillers and has browsed in a book store, it more than likely you have seen this book before, even in passing. It's Janet Evanovich's Stephanie Plum series. Sporting bright, colorful and bordering obnoxious covers, I almost avoided picking up this first book.
The reason I picked up this series was the countless recommendations. One way it was described to me was as being "light, easy reading". And, it is. I've read a few of Janet Evanovich's re-published romance novels & "Wicked Appetite", her new book that came out last fall (which is a spin-off of the Stephanie Plum un-numbered set of books). Her romance always had too much packed in to really work well. With the Plum series, by simply being a series it gives Evanovich adequate time to fit in what plot themes she wants and time to develop her characters.
In this first book, we meet the main cast of characters. There's Stephanie's family: her mother (who constantly wants Stephanie to settle down and live up to the "Burg" expectations), her Grandma Mazur (who decided to let loose after her husband passed on), and her father (who tries his hardest to ignore them all at the dinner table and focus on his meal). Vinnie is her cousin, whom she blackmails into giving her a job as a Bond Enforcement Agent (BEA) aka bounty hunter. Then there's Joe Morelli, the bad boy turned cop turned Failure to Appear (FTA), who has a sexual history with Stephanie. Through Stephanie's new job, she meets Ranger. He's the hot Cuban American bountry hunter, who, on a lark, takes Stephanie under his wing. He likens it to a Professor Higgins and Eliza Dolittle type of relationship.
It's an interesting mix of characters with an interesting plot to boot. However as a standalone, the sheer amount of people you meet can be overwhelming. Luckily it's part of a series, and Evanovich has the space to spread her creative wings. Overall, this series is definitely an easy read. Give it a chance, and you'll find yourself flying through all the books.
Author:
Kim
Everything can be made better with a good book or some relaxing knits. 😀 Find me on IG @kimberlyh12 or on Twitter @enervated.
Related Posts