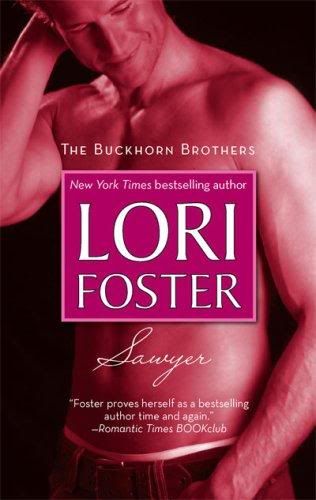 Publisher: Harlequin Special Edition (July 1, 2007)
Kindle:  224 pages / 254  KB
Rating: 2 of 5 stars
Sawyer Hudson, the only doctor in Buckhorn County, took it upon himself to rescue the beautiful but enigmatic woman who came literally crashing into his life. Though he knew he should keep things platonic and professional, around her his body had other ideas. And his heart was no more cooperative.

Honey Malone was on the run, fleeing a dangerous predator, when she lost control of her car, drove into a lake–and found herself up to her neck in breathtaking men. After the brothers nursed her through her injuries, she tried to leave, but she hadn't bargained on their stubborn protectiveness. Or the passionate bond that tied her to Sawyer.
Review:
A pretty quick read, I had high hopes for "Sawyer". The premise seemed interesting and full of potential. Foster created a diverse cast of enthralling male leads for her series. The focus of this one is, obviously, Sawyer. Honey, on the other hand, is not nearly intriguing. Sure, she has that whole mysterious-woman-on-the-run thing going on for her. But it's not nearly enough. Her refusal to confide in Sawyer and his brothers makes sense, but it goes on for so long I'm left feeling irritated with her.
The one scene where she finally got on my nerves so much that I had to put the book down and take a break from it all was when she tried to "keep them safe by keeping them in the dark". To achieve that goal she attempted to "borrow" (read: steal) Sawyer's car to get away. Then, in the midst of all Sawyer's anger, their inexplicable attraction erupts and they're making out. This entire scene felt ridiculous and forced. I can see how perhaps it was headed here.
Sure the story has potential. The pacing of the story moves at a brisk pace, which helped to keep my attention on the book. But the characters/ situations weren't developed enough for me. If you're looking for just a quick romance and easy read, then this book and the others in the series should be a good fit.
Author:
Kim
Everything can be made better with a good book or some relaxing knits. 😀 Find me on IG @kimberlyh12 or on Twitter @enervated.
Related Posts