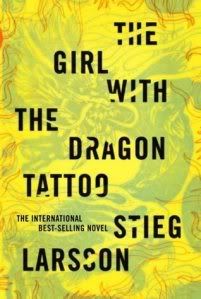 Publisher: Vintage; Reprint edition (June 23, 2009)
Paperback: 664 pages
Series: Millenium #1
Rating: 2 of 5 stars
Mikael Blomkvist, a once-respected financial journalist, watches his professional life rapidly crumble around him. Prospects appear bleak until an unexpected (and unsettling) offer to resurrect his name is extended by an old-school titan of Swedish industry. The catch – and there's always a catch – is that Blomkvist must first spend a year researching a mysterious disappearance that has remained unsolved for nearly four decades. With few other options, he accepts and enlists the help of investigator Lisbeth Salander, a misunderstood genius with a cache of authority issues. Little is as it seems in Larsson's novel, but there is at least one constant: you really don't want to mess with the girl with the dragon tattoo.
Review:
Let me start by saying, I'm probably one of the few people who didn't immediately fall in love with this book (if at all). I'll admit though, Larsson had an interesting idea. Partly because of my aunt's recommendation and to be able to watch the movies guilt-free, I forged through and read the book.
Set in Sweden, it was interesting to read about a foreign place. The story circles aroudn the two main charachters: Mikael Blomkvist, a journalist who recent lost a major libel case, and Lisbeth Salander, a brilliant but largely misunderstood girl who is considered legally incompetent in the eyes of the Swedish law. Then we throw Henry Vanger into the mix, the elderly former CEO of Vanger Enterprises. Vanger is obsessive over the cold case, and now, in his old age, wants to try one last time to put it all to rest.
Definitely an interesting plot, and a great set of well developed, flawed characters to keep us interested. But maybe in part due to my lack of understanding for Swedish society, there were times when it felt like the story dragged. More often then not, I found myself skimming through quite a few information centered sections, and the story didn't progress as swiftly as I would have liked.
Again, I mostly read this book for the movie. There were several topics that made me quite uncomfortable (because I have the sensibilities of a maiden aunt). There were things like adultery, rape and corruption in the system. One particular scene involved Lisbeth and the scum ball social worker (or whatever they're called in Sweden), who makes his appearance again in the next book so I wasn't allowed to forget his existence easily. I'm inclined to believe people love these books for a reason, so I tentatively recommend this book in hopes you all find something redeeming that I missed. It's a slow start, but for others (just not myself) it does pick up as you get into the book.
Author:
Kim
Everything can be made better with a good book or some relaxing knits. 😀 Find me on IG @kimberlyh12 or on Twitter @enervated.
Related Posts