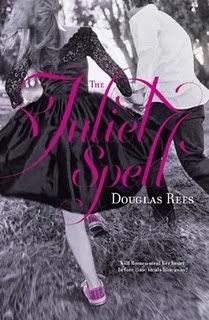 Publisher: Harlequin Teen (September 27, 2011)
Kindle:  272 pages / 396  KB
Source: Netgalley
Rating: 4 of 5 stars
I wanted the role of Juliet more than anything. I studied hard. I gave a great reading for it—even with Bobby checking me out the whole time. I deserved the part.

I didn't get it. So I decided to level the playing field, though I actually might have leveled the whole play. You see, since there aren't any Success in Getting to Be Juliet in Your High School Play spells, I thought I'd cast the next best—a Fame spell. Good idea, right?

Yeah. Instead of bringing me a little fame, it brought me someone a little famous. Shakespeare. Well, Edmund Shakespeare. William's younger brother.

Good thing he's sweet and enthusiastic about helping me with the play…and—ahem—maybe a little bit hot. But he's from the past. Waypast. Cars amaze him—cars! And cell phones? Ugh.

Still, there's something about him that's making my eyes go star-crossed….
Review:
Truthfully, I was on the fence on whether or not I'd like this book. Of all the things to wish for, Miranda wants to be Juliet. But as I read on and her reasoning behind the wish was explained, I warmed up to the story and started to root for her.
The entrance of Edmund was hilarious and his reactions were believable. A lot of modern ideas and terminology was thrown at him, but he adapts well at a surprisingly quick pace.
Miranda's mother is also another surprise.Despite the overall unbelievability of the situation, she just accepts Edmund's appearance in their life and home. Same with Drew. Intuitive and kind, Drew was a character I liked having around.
The writing is easy to read, while the story moves at a quick pace. Just when you think you know what's going to happen Rees throws a curveball. A fun read for any YA romance fan.
————
Find Douglas Rees:
Purchase the book:
Amazon | Barnes & Noble | The Book Depository 
Author:
Kim
Everything can be made better with a good book or some relaxing knits. 😀 Find me on IG @kimberlyh12 or on Twitter @enervated.
Related Posts