Waiting on Wednesday is a weekly event hosted at Breaking the Spine. The purpose is to spotlight upcoming releases that we are excited for.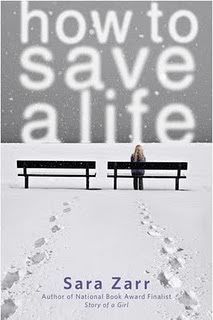 How to Save a Life by Sara Zarr
Hardcover: 352 pages
Publication date: October 18, 2011
Publisher: Little, Brown Books for Young Readers
Jill MacSweeny just wishes everything could go back to normal. But ever since her dad died, she's been isolating herself from her boyfriend, her best friends–everyone who wants to support her. And when her mom decides to adopt a baby, it feels like she's somehow trying to replace a lost family member with a new one.

Mandy Kalinowski understands what it's like to grow up unwanted–to be raised by a mother who never intended to have a child. So when Mandy becomes pregnant, one thing she's sure of is that she wants a better life for her baby. It's harder to be sure of herself. Will she ever find someone to care for her, too?

As their worlds change around them, Jill and Mandy must learn to both let go and hold on, and that nothing is as easy–or as difficult–as it seems.
I feel like every WoW pick I have is always something I'd never pick up normally when just perusing the book story. I think these are always the books I'd love to read if I had time.
Author:
Kim
Everything can be made better with a good book or some relaxing knits. 😀 Find me on IG @kimberlyh12 or on Twitter @enervated.
Related Posts