Waiting on Wednesday is a weekly event hosted at Breaking the Spine. The purpose is to spotlight upcoming releases that we are excited for.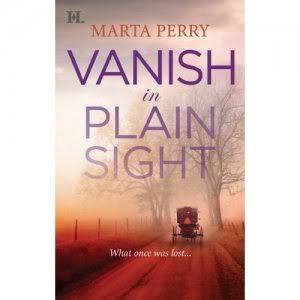 Vanish in Plain Sight by Marta Perry
Paperback: 384 pages
Publication date: May 24, 2011
Publisher: Harlequin
From Netgalley.com:
Since she was a little girl, Marisa Angelo has been haunted by the image of her mother walking away, suitcase in hand, to return to her Amish roots.

Marisa and her "Englischer" father never saw or heard from her again. Now Marisa has received a shocking call from police. Her mother's bloodstained suitcase was found hidden inside the wall of an Amish farmhouse.

Desperate for answers, Marisa heads to Lancaster County. But no one—not the police or Marisa's tight-lipped Amish relatives—can explain what happened to her mother.
Only one man is as determined as Marisa to unravel the mystery— Link Morgan, the handsome ex-military loner who found the suitcase in the house he inherited from his uncle. Because both Link's and Marisa's family members are implicated in the decades-old disappearance.

The secret lies somewhere in the quaint Amish settlements. But someone will do anything to ensure the truth remains hidden forever.
Author:
Kim
Everything can be made better with a good book or some relaxing knits. 😀 Find me on IG @kimberlyh12 or on Twitter @enervated.
Related Posts