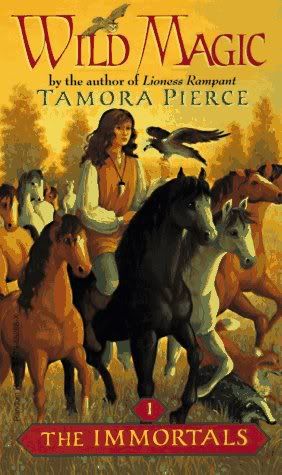 Publisher: Simon Pulse (December 8, 2009)
Kindle: 208 pages / 404 KB
Rating: 3.5 of 5 stars
Since I'm working on a YA story myself, I get to revisit favorite YA authors that I used to read back in the day–all in the name of research! I was visiting a friend and while admiring her bookshelf I saw that she had a large collection of Tamora Pierce novels. I had enjoyed some of her novels as a young tween but seem to have missed a good deal of them. I had never read the Immortals series before, so I picked up the first one and just started reading.The first book of the Immortals series is called Wild Magic, and it was pretty good. Tamora Pierce is probably one of the best YA fantasy authors, and I think her world building skills are very good. All of the novels, including Wild Magic, that I have so far encountered are set in a fictional country called Tortall. They have some of the same characters that drift in and out of the plot, and I have to say that I really like this style. Many authors get a bad case of Sequel-itis, and tend to milk characters and plot lines for all they can, and then some. I like Pierce's style because she uses her world but brings in new stories and characters and keeps everything fresh.This story centers around a simple country girl named Daine. Her journey begins when she is hired by the royal horsemistress to bring a herd of ponies to the training ground for the Queen's Riders. Daine has an affinity for horses–a natural way with animals that leaves her new boss impressed and more than a little curious. It seems to be more than a knack, Daine actually has a magical gift that allows her to communicate with animals. It is a very valuable trait to Onua, her boss, when bringing the ponies back to the training grounds, but her gift also becomes instrumental in the battling of creatures who have escaped imprisonment in the realm of the immortals: Harpie-like vultures, ogres, and beastly creatures called "spidrens" are just a few of the enemies facing Daine and her companions.The story has excellent pacing; it doesn't waste a page getting into the action, and draws the reader right through to the final page. If I were to criticise one thing about the story I would say that Daine is a *teensy* bit of a cliche–she has a serious case of haunted/orphan/chosen one syndrome that I think has become all too common with fantasy novels. However, these sorts of things often come with the territory, and it really did not stop me from thoroughly enjoying the story. Pierce is really good with ensemble casts of characters; while the story focuses on Daine, she spins a web of friends around her with such finesse that you end up caring deeply about all of them by the end–from your friendly neighborhood shapeshifting mage to Daine's own trusty steed, Cloud.
Reading this book has inspired me to plow through the rest of Pierce's works, so expect more awesome Tortall-ian reviews coming your way!
Related Posts